Science-Backed Premature Ejaculation Treatment Solution
Here at mate, we're of the firm belief that our product is only as good as the science that backs it. That's why we're proud to have the backing of a clinical study to prove the effectiveness of mate endurance in the treatment of premature ejaculation. Over the course of a three month period, a study was conducted to assess the efficacy of the dietary supplement on sexual satisfaction, ejaculatory control, and sexually related personal distress in patients with premature ejaculation. In a double-blind, randomized, placebo-controlled study, 68 patients between 21 and 60 years old with premature ejaculation were randomized to receive either mate endurance or placebo treatment for three months. The patients were provided a questionnaire at the start of the study and again three months post commencement of the study.
Dietary supplement brands often choose to forego conducting a research study prior to launching their products due to the financial and time investment needed to properly conduct a study. However, we felt as though the backing of a clinical study was the only way to prove the effectiveness of the product, and demonstrate that it does indeed make a noticeable difference. 
Methodology of the Clinical Study
The study worked as follows: between December 2019 and March 2020, 68 individuals complaining of PE were randomly assigned to two test groups (group 1 and group 2). Individuals in Group 1 received the dietary supplement, and individuals in Group 2 received the placebo. Individuals were instructed to take one capsule of their assigned treatment once daily on an empty stomach prior to their evening meal at approximately the same time every day. 
One means of assessing the effectiveness of a PE treatment is by measuring the time of each sexual interaction, from penetration to ejaculation. However, we felt as though this time-based measurement approach to PE would not be practical in a clinical study, as it could add to performance anxiety and additional stresses to the sexual experience. Instead, we pursued a more subjective approach to evaluating the efficacy of the treatment. The two primary means of measuring PE through surveys are through the Index of Premature Ejaculation (IPE) and the Premature Ejaculation Diagnostic Tool (PEDT). As such, we had study participants complete both surveys both before commencement and after completion of treatment. Results were then compared to determine the effectiveness of mate endurance versus the placebo.
At the commencement of the study, we ensured control variables were maintained between groups one and two. There were no significant differences in mean age, mean sexual encounters per week, and mean IPE and PEDT scores (measures of the degree to which PE impacted study participants). 
Results of the Clinical Study
After twelve weeks of treatment, it was found that there was a significant decrease in symptoms related to premature ejaculation in the dietary supplement group versus the placebo group. This suggests that the dietary supplement was more effective than a placebo in decreasing symptoms associated with PE as shown by the subject's responses to the questionnaire. Specifically, the supplement was effective in improving sexual satisfaction and decreasing distress stemming from sexual encounters in patients suffering from PE. Over the study period, participants on a mate endurance regimen saw a 68% increase in overall sexual satisfaction, a 66% increase in their sense of ejaculatory control, and a 70% decrease in stress and anxiety caused by sexual experiences.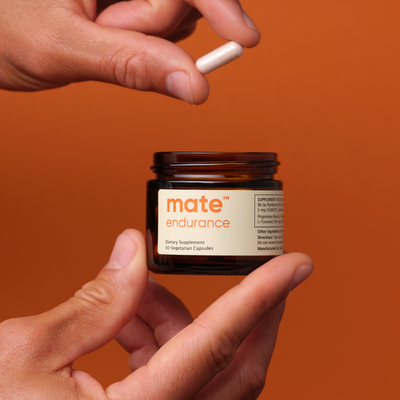 mate endurance's ingredient formulation is the primary explainer behind the effectiveness of the supplement. From 5-HTP to L-Citrulline to Tribulus, mate endurance contains ingredients that boost serotonin levels (thereby delaying the ejaculatory process), improve blood flow to the penis, and increase overall arousal levels.
As we know, premature ejaculation continues to be one of the most predominant male sexual dysfunctions, affecting nearly 40% of men at one point in their lives. While many thought natural dietary supplements could provide a drug-free alternative solution, few studies have investigated the effectiveness of these supplements. The results of this study demonstrate the effectiveness of the dietary supplement mate endurance in improving some subjective symptoms of PE compared to placebo.
The mate endurance Difference
Traditionally, the only solutions for the treatment of premature ejaculation were those with significant side effects. On one hand, topical solutions such as benzocaine wipes or lidocaine spray would result in numbing of the penis and decrease overall sexual satisfaction. As such, while these "solutions" could help increase the duration of the sexual experience, this increased time would come at the expense of sexual pleasure and satisfaction, and in certain instances, an individual's ability to maintain an erection. 
On the other hand, selective serotonin reuptake inhibitors (SSRIs), such as Sertraline (generic form of Zoloft) come with even more significant side effects. For one, sertraline is only FDA-approved to treat depression, anxiety and certain other mood disorders. Treatment for premature ejaculation is an "off- label" use of Sertraline, which suggests that the drug is not even primarily intended to treat PE. Additionally, Sertraline comes with a host of sexual side effects,  including difficulty achieving an erection and a reduced libido, suggesting a decreased desire to engage in sexual activity. That begs the question: what's the point of treating PE with Sertraline in the first place if it will simply lead to an exacerbation of other sexual dysfunctions?
That's why we're proud of mate endurance. Not only is it proven effective, but it is drug-free and all-natural, suggesting no lasting side effects. That means you're able to address PE without dealing with any of the side effects our competitors think you should have to put up with.
As we like to say, we're mate and we're here to make the good times last.
This article is for informational purposes only and does not constitute medical advice. The information contained herein is not a substitute for and should never be relied upon for professional medical advice. Always talk to your doctor about the risks and benefits of any treatment.
---